This event has expired.
THE EROTIC BALL Details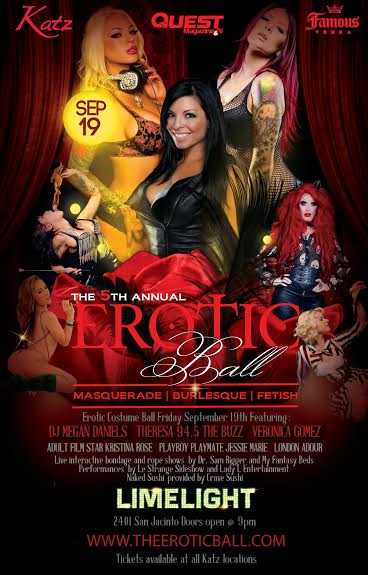 Welcome to …….
THE EROTIC BALL
VOTED HOUSTONS #1 SEXIEST PARTY!
This is an event that embraces all that is adult oriented with a very classy and very upscale twist. This is the one event that pushes the envelope because we believe that it is okay to express yourself and live your life freely
…Even if it is for One Night Only!!!
It features non-stop entertainment of limitless variety. Attendees will see and hear live music, top DJs, erotic performers, exotic dancers, and wild sideshows and partake in playful interactive fun.
We will also feature several Vendors showcase the latest in exotic fashion, erotic art, adult products, games, and novelties!
COME OUT & EXPERIENCE THE SEXIEST PARTY IN HOUSTON!!!
FULL DETAILS COMING SOON!!!
SPONSORED BY
QUEST MAG……KATZ BOUTIQUE …..LIMELIGHT
HOSTED BY
THERESA FROM 94.5 THE BUZZ
DJ MEGAN DANIELS(SAN DIEGO)
THE FABULOUS LONDON ADOUR
DR SAM RIGGERS
VERONICA GOMEZ(PLAYBOY/AFFLICTION)
FETISH DOLL EMILIY
JESSIE MARIE(PLAYBOY PLAY MATE)
MISS VENOM
LE STRANGE SIDE SHOW
LADY L
THE VIXENS
NAIKA WHISPERWISH/HAVOK
DJ BIZZ
DJ TABOO
DEJA VU- THE BASS NIMPHO
LOST PROPHET
MUCH MUCH MORE TBA!!
HARD COPY TICKETS AVAIL @ ALL KATZ BOUTIQUE LOCATIONS….