D.C. Halloween - The Black Pearl Yacht Party
Black Pearl DC Halloween Party Cruise: 4 Decks, 2 DJs, 2 Floors Music. Sat, Oct 30, 2021 aboard Spirit of Washington Yacht, at 580 Water St SW, Washington DC.

DC's Best Halloween Cruise, The Black Pearl is on the Spirit of Wash. Yacht. The finest ship in D.C. hosts: 2 DJs, 4 decks, & amazing views.
VIP Nightlife & Nightlife DC present…
Pier Pressure™
Black Pearl - Costume Party!
"The Legend Lives On ... The Spirit of Washington Yacht" 
4 Decks
2 DJs
2 Floors of Music
1 Mega Halloween Yacht Party!
with the Sounds by World Class House Music & Open Format DJs:
From the creators of Pier Pressure - Halloween Saturday, October 30th 2021 -- Prepare for the ultimate Halloween yacht party packed with 500+ people. Bring your significant and or entourage; and create an amazing experience that no club, hotel or land entity could offer at our pirate-themed (all costumes welcomed) party.
This Halloween, don't be afraid to come aboard the most magnificent, luxury yacht on the Washington Harbor, The Spirit of Washington. With two of D.C's hottest DJs performing live on 2 decks, we'll rock this boat with the best club mixes on the planet!!
Top 10 Reasons Why 'Pier Pressure™ is the #1 Party this Halloween:
1. This is the biggest Yacht Party on Washington Harbor this Halloween!
2. An All Star Line-up of D.C.'s Top DJs
3. Exclusive VIP AREA 
4. Check out some of the most gorgeous views of the D.C Skyline
5. 3hr Party / 2hr Cruise from 12:00 a.m. to 2:00 a.m.
6. Over 500 Costumed Party People having the time of their lives!
7. The most unique party during the holiday weekend
8. Luxury cruise on the Washington Harbor
9. D.C.'s hottest party people
10. Massive party with plenty of 'breathing room' to dance your face off!
This isn't like any other cruise or event.  Hornblower Cruises and VIP Nightlife's mission is to make sure our Pier Pressure Yacht Party is a perfect one for you and all your friends. Don't be a land lover; join us on the ultimate Halloween party cruise! If you have questions, or need assistance, call: 202.609.7333.
Current Schedule:
Check-In: 10:45pm
VIP Boarding: 11:00pm
GA Boarding: 11:15pm
Gate Closes at 11:50pm | Do Not Be Late - No Refunds
Cruise Time: 12:00am – 2:00am
Spirit of Washington | 580 Water St SW, Washington, DC
Some Info to Know:
Parking: No designated parking available on Pier. Public/street parking and Valet at nearby hotels Highly recommended to allow extra time to find parking day the of the event as there will be lots of traffic. Public transportation (e.g. train/taxi/uber) is recommended as well.
Dress Code: Costumes are not required but strongly encouraged. All Mask will need to be removed prior to entering for verification of your ID.  No weapons will be tolerated including toy: swords, knifes and or guns regardless if they do not appear to be real or not. We reserve the right to refuse service to anyone or confiscate any props to a costume that may deem inappropriate or dangerous.
Please Note: This party cruise is expected to follow CDC Guidelines with social distancing and masks if & when necessary. All staff will have necessary PPE for excellent clean service. If event is canceled due to Covid-19, you'll be refunded.
Must be 21+ to participate. All sales are final; no refunds or exchanges. Prices are subject to change while supplies last.
Additional Information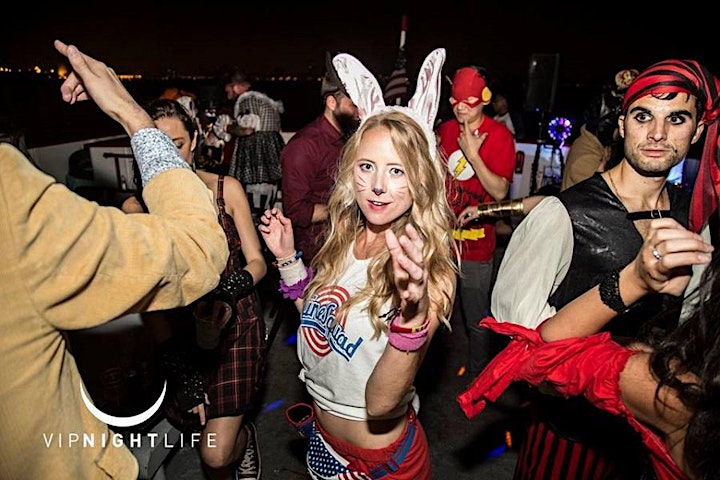 Purchase Policy
Credit Card & ID:
Support:
Purchase Policy:
Event Booking:
Alcohol, Seating, Food:
Event Cancellations:
No Refunds:
Release of Liability:
Indemnity:
Collections & Legal Action Against Debt:
Arbitration Agreement:
Severability:
Thank you for your purchase!