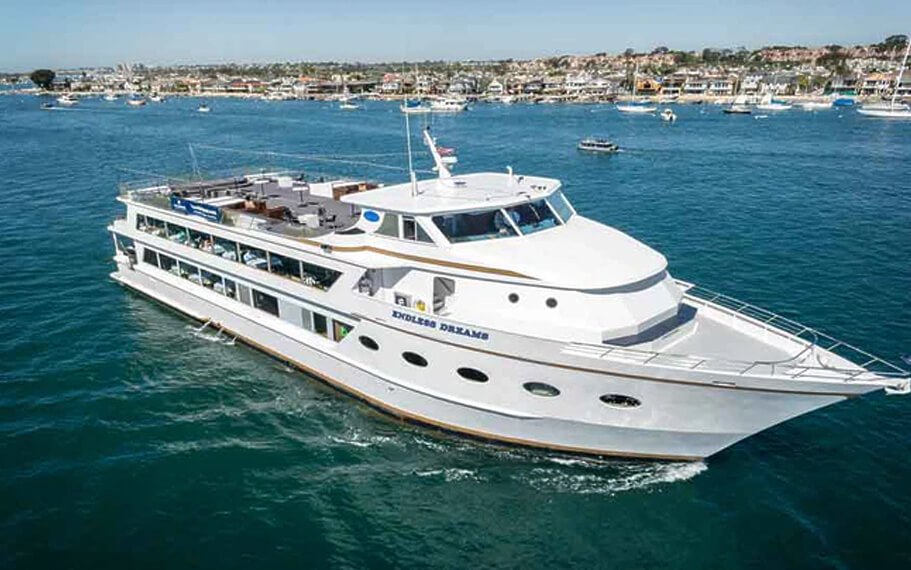 Joker LA Halloween Party Cruise
Joker's L.A Halloween Party Yacht: 4 DJs, 3 Decks, 2 Levels of Music, 1 Amazing Cruise - Sat, Oct 30, 9:00 PM aboard Endless Dreams Yacht, Long Beach.

Jokers Halloween Yacht where Villains & Super Heroes celebrate beggar's night on LA's largest luxury yacht w/ 2 Decks of Music, & more..
VIP Nightlife present ...
Joker Halloween Yacht & Harlequin Pier Pressure® LA Halloween Yacht Party
3 Decks | 4 DJs | 2 Levels of Music | 1 Amazing Cruise with music by Top L.A Open Format & House music DJs aboard Endless Dreams Yacht
From the Creators of Pier Pressure - Halloween Saturday, October 30, 2021: Prepare for Long Beach's biggest & best Halloween yacht party: Joker's Halloween, the ultimate super hero & villain themed costume party but any costume will do!
There is nothing tiny about this ship, which features 3 massive decks with 2 indoor Levels of Music & a huge sky deck with some of the most vivid views of the Queen Mary, Long Beach Skyline & Harbor.
There are 3 amazing utilized decks on the spacious Endless Dream vessel.  Seating will be 'first come, first serve' on the lower deck, but there will be some reserved seating on the 3rd Deck so that table service can have the best views of the all the gorgeous scenery. Be prepared to have the time of your life! Space is limited, so get your tickets early.
The Perks of this VIP Masquerade cruise:
L.A's Largest yacht sets Sail for an unforgettable Joker's Halloween
State of the Art Production Sound & Lighting
Breathtaking views of the Long Beach Skyline
2 Large Decks with 2 dance areas playing the hits of today with House & Top 40
An amazing fun filled crowd
Unbeatable VIP Packages with Bottle & Table Service
Spectacular Group Saving Packages
And more...
Photography / Multimedia Disclaimer
By attending our event, you agree to the following;
Allowed: Non-Professional Recording Equipment (Point & Shoot Cameras, Flip Video Cameras, etc.) Cameras for personal use only.
Not Allowed: Professional Recording (Photo, Video, Audio) Equipment (NO Detachable Zoom Lenses, Tripods or Other Commercial Equipment without the written consent of VIPNightlife.com.
VIPNightlife.com reserves the right to use any photograph/ videography or other similar reproductions or recordings taken at any event hosted, or any affiliate of VIPNightlife.com. VIPNightlife.com also reserves the right to use any photograph/ videography without the written permission of those included within photograph.
Photographs may be used in publications or other forms of media produced, used, or contracted by VIPNightlife.com. This includes, but is not limited to: magazines, websites, social media, blog, presentations and other VIPNightlife.com marketing materials or other, similar reproductions or recordings.
A person attending a VIPNightlife.com event who does not wish to have their image recorded for distribution should make their wishes known to photographer and or the event organizers.
Any person or organization not affiliated with VIPNightlife.com may not use, copy, alter or modify photographs, graphics, videography or other similar reproductions or recordings without the advance written permission of VIPNightlife.com.
Current Schedule:
Check-in begins at: 8:45pm at Dock 6A
VIP Priority Boarding: 9:00pm
GA Boarding: 9:15pm
Gate Closes at 9:55pm Sharp - (No Refunds if you miss the boat.)
Cruise Time: 10:00pm – 1:00am
Boarding Location: 100 Aquarium Way. Dock 6A
Some Info to Know:
Parking: Paid parking is available at the Aquarium Parking structure, located at 100 Aquarium Way, Long Beach, CA 90802. The structure is on the water side of Shoreline Drive between Chestnut Place and Aquarium Way. There's also parking at the Pike Outlet Parking Structure.
VIP Nightlife and Hornblower Cruises & Events are not responsible for any parking lots. Please DO NOT Drink & Drive. Use Ride Share Apps: Lyft or Uber.
Dress Code: Super Hero & Villain Costumes preferred, but not required. * Costumes are not required but strongly encouraged. All masks will need to be removed prior to entering for verification of your ID. No weapons will be tolerated including toy: swords, knifes and/or guns regardless if they do not appear to be real or not. We reserve the right to refuse service to anyone or confiscate any props to a costume that may deem inappropriate or dangerous. *
Age Requirement: Must be 21+ to participate. Prices may increase based on supply & demand. All sales are final; no refunds or exchanges.
Please Note: This party cruise is expected to follow CDC Guidelines with social distancing and masks if & when necessary. All staff will have necessary PPE for excellent clean service. If event is canceled due to Covid-19, you'll be refunded.
Questions? For more info and or questions please call: 323.604.6030
Additional Information
No alcohol, open containers or outside food is permitted. No illegal drugs or controlled substances, including prescription drugs and marijuana, will be tolerated. Using marijuana on the water is illegal, regardless of medical condition(s). The use and or possession of illegal drugs or controlled substances is absolutely prohibited by the US Coast Guard.
Yacht Company holds a zero tolerance policy related to illegal substances aboard all vessels and anyone who is caught participating or processing any such items will not be allowed to board and substances will be confiscated.
If you are thought to be under the influence of, or caught participating in, illegal substances on board, you will be quarantined until the boat can safely return to dock - the cruise is subject to end for all guests immediately upon doing so; no refunds will be issued under any circumstances.
Thank you in advance for your cooperation. Let's have fun and party safe!
Purchase Policy
Credit Card & ID:
Support:
Purchase Policy:
Event Booking:
Alcohol, Seating, Food:
Event Cancellations:
No Refunds:
Release of Liability:
Indemnity:
Collections & Legal Action Against Debt:
Arbitration Agreement:
Severability:
Thank you for your purchase!