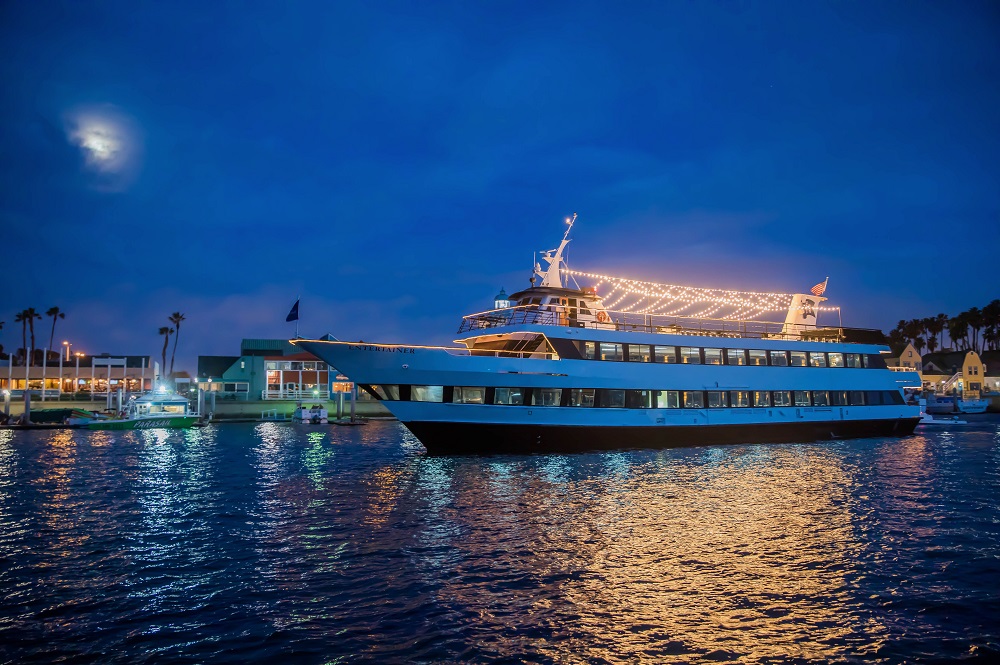 LA Labor Day Weekend Pier Pressure Party Cruise
Pier Pressure Labor Day Sunday Marina Del Rey Yacht Party: Send summer out in style w/ 3 levels of fun, DJ dancing, 3hr cruise - Sun, Sep 5, 2021 aboard Entertainer Yacht!

The Marina Del Rey Labor Day Weekend Sunset Harbor Cruise showcases top LA DJs w/ 2 levels of music with 3 decks to mingle.
VIP Nightlife presents...
The 7th Annual...
Marina Del Rey Labor Day Sunday Cruise
From the Creators of Pier Pressure
"This Amazing Sunset Cruise sails on The Entertainer Yacht" 
3  Decks
2  DJs x 2 Floors of Music
1 Mega Labor Day Weekend Yacht Party!
with the Sounds by World Class House Music & Open Format DJs ...
From the creators of Pier Pressure... Sunday, September 5th 2021 -- Prepare for the ultimate party cruise filled with 400+ party people ready to dance all afternoon until Sunset!
Don't be miss the most magnificent and luxurious yacht in the MDR Harbor, 'The Entertainer Yacht'.  With two of L.A's best DJs performing live on two decks, we'll rock this boat with the best club mixes on the planet.
Top 10 Reasons Pier Pressure™ is #1 Party This LDW:
This is the biggest Yacht Party in L.A this Labor Day Weekend!
Giant Open Air Deck with Stern & Bow Areas to Mingle
An All-Star Line-up of L.A's Top DJs
Exclusive VIP Tables w/ Special view of the dance floor
Enjoy some of the most gorgeous ocean views of Marina Del Rey
Three Hour Cruise / Four Hour Party
Over 400+ Party Goers having the time of their lives!
The most unique party during the holiday weekend
Luxury cruise without leaving MDR Harbor
the West Side's hottest party people
Massive party w/ plenty of 'breathing room' to dance your face off
Don't be a land lover this Labor Day Weekend! Grab your significant and or group of favorite friends and escape to biggest and best LDW party LA has to offer!
Current Schedule
Check-in: 3:45 p.m.
VIP Boarding: 4:00 p.m.
GA Boarding: 4:10 p.m. 
Gates Close at: 4:55 p.m. (Do Not Be Late - No Refunds)
Cruise Time: 5:00 p.m. – 8:00 PM
Entertainer Yacht | 13755 Fiji Way, Marina Del Ray, CA.
This isn't like any other cruise or event.  Hornblower Cruises & VIP Nightlife's mission is to make sure our Pier Pressure Yacht Party is a perfect one for you and all your friends. If you have any questions, please call 323.604.6030.
Some Info to Know
Dress Code: Smart Casual Pool Party Attire. Bikini/Bathing Suit Attire OK. No Sports Jerseys or Blue Jeans. Dress to impress.
Parking is extremely limited (particularly on weekends and during special events). Free parking is available just a short walk away at Dock 52 on Fiji Way. Pay parking is available at nearby Fisherman's Village. Please be sure to give yourself enough time should you have to park off-site. Dock 52 is a 10-15 min easy walk and Fisherman's Village is much closer. Please do not park anywhere at the apartment complex next door. You will be towed.
Age Requirement: Must be 21+ to participate. Prices may increase based on supply & demand. All sales are final; no refunds or exchanges.
Please Note: This party cruise is expected to follow CDC Guidelines with social distancing and masks if & when necessary. All staff will have necessary PPE for excellent clean service. If event is canceled due to Covid-19, you'll be refunded.
Additional Information
No alcohol, open containers or outside food permitted. No illegal drugs, or controlled substances, including prescription drugs and marijuana, will be tolerated. Using marijuana on the water is illegal; regardless of a medical condition(s). Use and or possession of illegal drugs or controlled substances is absolutely prohibited by Hornblower Cruises & Events and the US Coast Guard. 
Hornblower holds a zero tolerance policy related to illegal substances aboard all vessels and anyone who's caught participating or processing any such items will not be allowed to board and substances will be confiscated. If you're thought to be under the influence of or caught participating in illegal substances on board, you'll be quarantined until the boat can safely return to dock. Cruise is subject to end for all guests immediately upon doing.
Purchase Policy
Credit Card & ID:
Support:
Purchase Policy:
Event Booking:
Alcohol, Seating, Food:
Event Cancellations:
No Refunds:
Release of Liability:
Indemnity:
Collections & Legal Action Against Debt:
Arbitration Agreement:
Severability:
Thank you for your purchase!