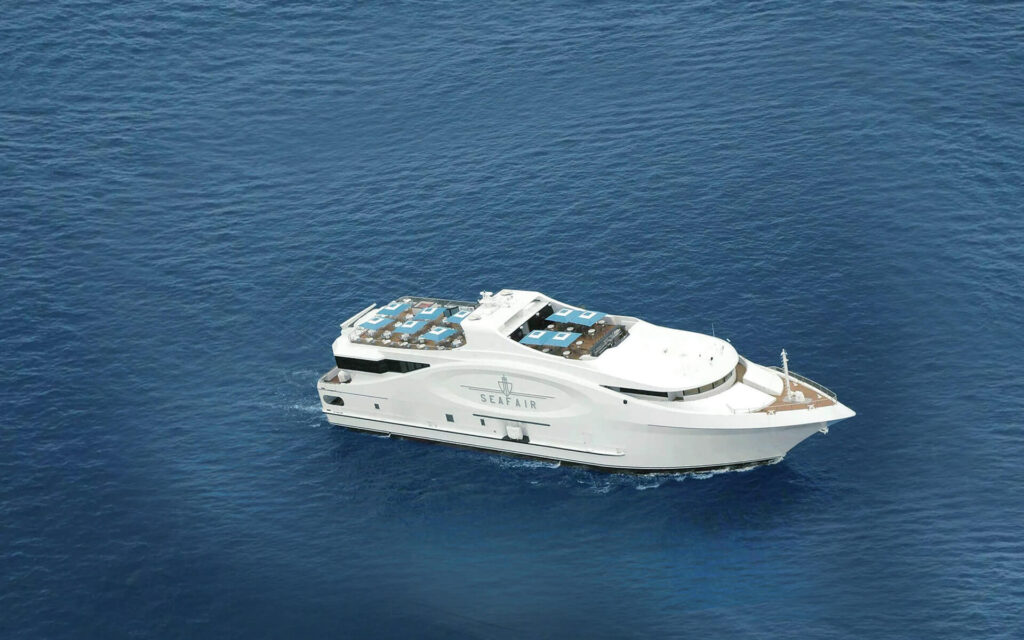 New Year's Eve 2022 Miami Fireworks Party Cruise - Seafair Mega Yacht
Best view of midnight Miami Orange rise and spectacular fireworks awaits on this New Year's Eve 2022 aboard $40M SeaFair MEGA Yacht Party Cruise!

Best view of midnight Miami Orange rise and spectacular fireworks awaits on this New Years Miami Party Cruise aboard $40M SeaFair MEGA Yacht
VIP Nightlife & Miami Nightlife
present... 
The Ultimate Miami NYE 2022
GATSBY'S YACHT
Midnight Fireworks Viewing Party
New Year's Eve on the Bay!
Miami's most exclusive and glamorous New Year's event is aboard the internationally acclaimed SeaFair. The best view of the midnight Miami Orange rise and spectacular fireworks awaits on the Seafair SkyDeck.
Why settle for an average party boat, when you can live it up on a luxury mega yacht? After all, it's New Year's Eve; and you deserve only the best!
Celebrate 2022 in style aboard the SeaFair Miami; a 222-foot, $40M uber lux mega yacht designed by the internationally acclaimed yacht designer Luis De Basto.
Times are subject to change pending Miami Curfews. Please make sure Eventbrite is marked as safe sender, you'll only be contacted via email.
Current Schedule & Perks are as follows:
Early Check-in: 8:45 PM
Platinum Admiral VIP Boarding: 9:00PM
Golden GA Boarding: 9:15 PM
Gate Closes at 10:15 PM (Do Not Be Late - No Refunds)
Cruise: 10:30 PM - 2:00 AM
Bayfront Fireworks Show at Midnight
Disembark: 1:45 AM - 2:00 AM
Premium Open Bar
Premium Brands for ALL
Top Shelf Cocktails for VIPs 
Multiple Elegant Bars on Every Deck
Welcome Bubbles and New Years Toast
LIMITED RESERVED VIP TABLES
INCLUDE EXCLUSIVE AREAS WITH RESERVED SEATING
WITH 3 BOTTLES OF DOM PERIGNON TO TOAST AT MIDNIGHT
PRIVATE SERVERS & SECURITY 
Delicious Gourmet Food
Festive hors d'oeuvres
Raw seafood bar
A culinary array of global cuisine
Dazzling Entertainment
Live DJ entertainment on multiple levels
Spectacular Skydeck fireworks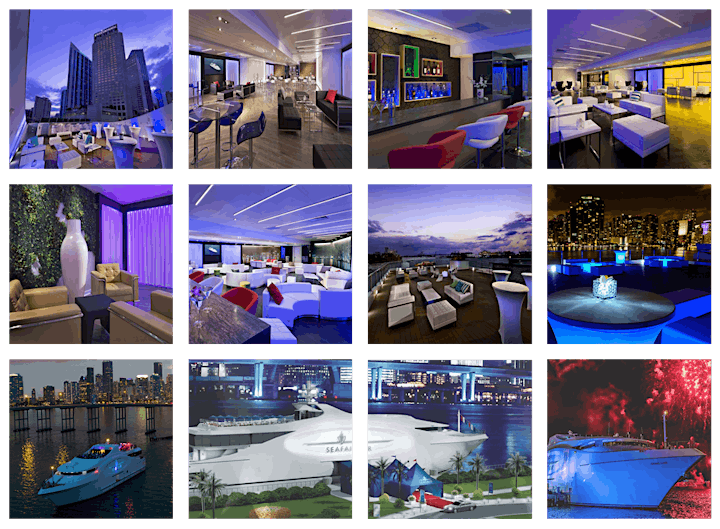 Some Info to Know
Dress Code: Strict dress code enforced. Upscale, semi-formal, cocktail attire required for entrance. Men will not be allowed to wear ball caps, plain t-shirts, hi-tops or tennis shoes. If you do not meet the dress code, you may NOT be allowed to board and no refund will be given.
Parking: The SeaFair Miami is docked at Bayfront Park South Dock at Chopin Plaza in downtown Miami adjacent to the InterContinental Hotel. Convenient self parking is available along Chopin Plaza, Biscayne Boulevard, and in multiple parking garages. Downtown Metromover is within walking distance.
Please Note: This party cruise is expected to follow CDC Guidelines with social distancing and masks if & when necessary. All our staff will have necessary PPE for excellent clean service. If this event is canceled due to Covid-19, you will be refunded.
Fireworks may be canceled as well. There will be no refunds if fireworks are not held due to Covid-19. Times may change as well. You'll be notified if the cruise is earlier and no refunds will be granted unless event is canceled.
Disclaimer: If there are incremental weather conditions that cause the ship to not be able to sail safely, the party will still be held on the indoor levels dockside and the event will not be canceled. There will be no refunds unless event is canceled entirely.
Please let me know: https://www.seafairmiami.com/terms-of-service/
Questions? Please email: info@vipnightlife.com. We look forward to celebrating with you responsibly.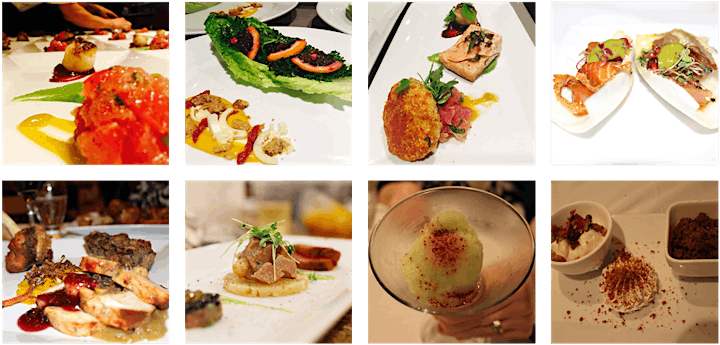 VIP Nightlife New Year's Eve Menu
12/31/2021
TRAY PASSED HORS D'OEUVRES
 •  Vegetable Spring Roll
 •  Broccoli Quiche
 •  Chicken Sate
 •  Beef Churrasco
 •  Scallops in Bacon
 •  Coconut Shrimp
GA & VIP APP STATIONS
CHEESE DISPLAY
International Artisanal Cheese Display:
Triple Crème French Brie, Herbed Boursin, Porter Cheese, Spanish Manchego, Maytag Blue, Humboldt Fog
Fresh and Dried Fruits, House made Chutney
Served w/ Assortment of Breads
BRUSCHETTA BAR
Prosciutto, Pear and Asiago Salad, Herb Crostini Tuna Tartare, Mustard, Caper and Lemon Maine Lobster, Citrus Tarragon Mayonnaise, Fennel Pollen
THE TASTE OF ASIA DIM SUM BAR
Beef and Shitake Shumai, Shanghai Pot sticker and Chicken Dumpling, Shrimp Hargow, Fresh Vietnamese Vegetable Spring Roll Accompaniments: Chili Sauce, Soy Vinaigrette
VIP-ONLY APP STATIONS (Placement / 3rd Deck ONLY)
SERRANO FERMIN DE BELLOTA
Alberca, Salamanca, Spain |Using Corta Fiambre from ITALY
Olive Oil Roasted garlic, Marinated smear ripe tomato
Sea Salt, Spiced Olives, Shaved Manchego Cheese Rustic Breads, Crisp Baguette, Grissini. include Antipasti Display Olive Oil, Roasted Peppers, Citrus Artichokes, Spiced Olives, Grilled Asparagus Boursin, Manchego, Drunken Goat Cheeses Parma Ham, Cured Chorizo Sopressata, Duck Prosciutto Rustic Breads, Crisp Baguette, Grissini, Olive Rolls
GRAND LUXE RAW BAR
Chilled Jumbo Prawns, Jack Daniels Cocktail Sauce
Crab Claws, Cold Water Oysters, Tuna tartar with seaweed salad martini and ceviche (Mustard Sauce Mignonette, cocktail sauce, lemon garnish)
GA & VIP CARVING STATIONS W/ ATTENDANTS
Will be duplicated on multiple levels for all guests. 
DELUXE BREAD & SALAD STATION
Champagne vinaigrette
Farm Greens Salad, Honey-Caraway Root vegetables, almond truffle Dressing
Artisan Market Bread Station
Cont.
CARVING OF ROASTED NY STRIPLOIN
Marinated in Garlic & Herbs
Red Wine Demi-Glace & Creole Mustard
SOUTH EAST STYLE ROASTED WHOLE CHICKEN
Mojo Whole Chicken marinade, Stuffed w/ lemon grass, cumin, onion & fresh garlic
BANANA LEAF WRAPPED SALMON
Cream of Coconut scented lemon grass, kafir lime leaves and Cilantro, Mango salsa
VEGETABLE NAPOLEON MEDLEY
Yellow squash, Zucchini, Roasted carrot, Piquillo peppers, eggplant, fresh herbs & olive oil
MUSHROOM RAVIOLI
Truffle Scented mushroom stuffed ravioli w/ cream sauce
GOURMET DESSERTS
Parisian Macaroons
classical French tradition, sandwiching two petite cookies together with a flavored filling
Exotic Assorted Pastries Bites
Key lime Tart, Mango Opera, Passion Flan, Carrot Spice Cake, Vanilla Bean Cheesecake, Red Berry Opera, Pistachio Cremux Tart & Coconut Tart
PURCHASE POLICY
Credit Card & ID:
Support:
Purchase Policy:
Event Booking:
Alcohol, Seating, Food:
Event Cancellations:
No Refunds:
Release of Liability:
Indemnity:
Collections & Legal Action Against Debt:
Arbitration Agreement:
Severability:
Thank you for your purchase!