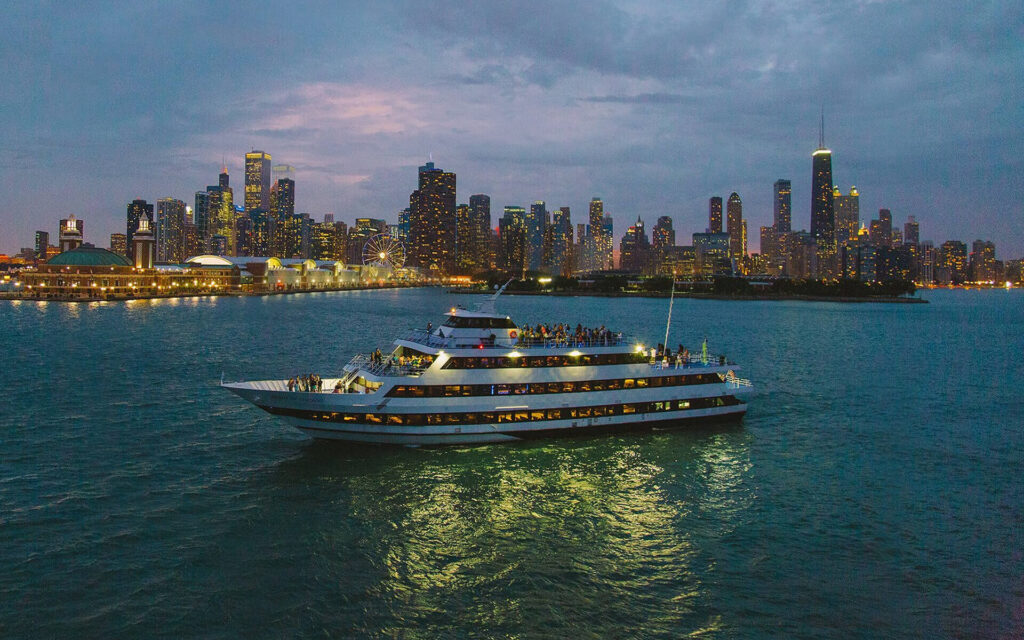 Titanic Masquerade Chicago Halloween Yacht Party
Titantic Masquerade: Chicago Halloween Costume Party Cruise. 4 Decks, 2 DJs, 2 Floors Music - Oct 29 2021 aboard Spirit of Chicago Yacht, at 600 E Grand Ave.

Pier Pressure's biggest Yacht Party on Lake Michigan this Halloween will be hosted on Spirit of Chicago! Features: 4 Decks, 2 DJs and more!
VIP Nightlife & CHI Nightlife present ...
Pier Pressure™ Chicago Titanic Masquerade & Costume Party!
"The Legend Lives On ... The Spirit of Chicago Yacht" 
• 4 Decks • 2 DJs • 2 Floors of Music • 1 Mega Halloween Yacht Party
with the Sounds by World Class House Music & Open Format DJs:
From the creators of Pier Pressure - Halloween Eve! Friday, October 29 2021: Prepare for the ultimate Halloween party cruise aboard the Spirit of Chicago Yacht that will be transformed into a haunting Titanic, filled with 600+ party-goers raised from the dead of the historic Titanic that sank hundreds of years ago.
Don't be afraid to come aboard the most magnificent and luxurious yacht in the Chicago Harbor, 'The Spirit of Chicago'.  With two of Chi Town's hottest DJs performing live on 2 decks, we'll rock this boat with the best club mixes on the planet.
Top 10 Reasons Why 'Pier Pressure™ is the #1 Party this Halloween:
This is the biggest Yacht Party on the Lake Michigan this Halloween!
An All Star Line-up of Chicago's Top DJs
Exclusive VIP Area 
Check out some of the most gorgeous views of Chicago Skyline
3 Hour Party / 2 Hour Cruise from 12-2AM
600 Titanic Party People in Costumes having the time of their lives!
The most unique party during the holiday weekend
Luxury cruise without leaving Lake Michigan 
Chicago's hottest party people
Massive party and still plenty of 'breathing room' to dance your face off
Don't be a land lover this Halloween! Bring your significant and or entourage of friends; and escape to biggest and best party Chicago has to offer this Halloween!
Current Schedule:
Check-in: 11:00pm
VIP Boarding: 11:15pm
GA Boarding: 11:30pm
Cruise Time: 12:00am – 2:00am
Spirit of Chicago | 600 E. Grand Ave - Navy Pier |  21+ Event
This isn't like any other cruise or event.  Entertainment Cruises & CHI Nightlife's mission is to make sure our 'Pier Pressure' Yacht Party is a perfect one for you and all your friends. Join us on the ultimate Party Cruise!  Call us today if you have any questions or need assistance: 312.878.0707.
Some Info to Know:
Parking: We recommend you park in the East Garage, using door 10 to most easily access the Spirit of Chicago. For the most current parking rates, visit Navy Pier Garages >
Make sure to give yourself plenty of time to find parking. CHI Nightlife and Hornblower Cruises & Events are not responsible for any parking lots.
Please DO NOT Drink & Drive. Use Ride Share Apps: Lyft or Uber.
Dress Code: Costumes are not required but strongly encouraged. All masks will need to be removed prior to entering for verification of your ID. No weapons will be tolerated including toy: swords, knifes and/or guns regardless if they do not appear to be real or not. We reserve the right to refuse service to anyone or confiscate any props to a costume that may deem inappropriate or dangerous.
Age Requirement: Must be 21+ to participate. All Sales are final. NO Refunds or exchanges. Prices are subject to change while supplies last.
Please Note: This party cruise is expected to follow CDC Guidelines with social distancing and masks if & when necessary. All staff will have necessary PPE for excellent clean service. If event is canceled due to Covid-19, you'll be refunded.
Additional Information:
No alcohol, open containers or outside food permitted. No illegal drugs or controlled substances, including prescription drugs and marijuana, will be tolerated.
Using marijuana on the water is illegal; regardless of a medical condition(s). The use and or possession of illegal drugs or controlled substances is absolutely prohibited by Hornblower Cruises & Events and the US Coast Guard.
Hornblower Cruises & Events holds a zero tolerance policy related to illegal substances aboard all vessels and anyone who is caught participating or processing any such items will not be allowed to board and substances will be confiscated.
If you are thought to be under the influence of, or caught participating in, illegal substances on board, you will be quarantined until the boat can safely return to dock. The cruise is subject to end for all guests immediately upon doing.
Purchase Policy
Credit Card & ID:
Support:
Purchase Policy:
Event Booking:
Alcohol, Seating, Food:
Event Cancellations:
No Refunds:
Release of Liability:
Indemnity:
Collections & Legal Action Against Debt:
Arbitration Agreement:
Severability:
Thank you for your purchase!